Glimpses of home via instagram.  I promise, those butterflies died of natural causes.
After a long sabbatical, I decided to have a craft meet up last weekend. I've been zealously pinning terrariums all week, and set out to make one for every room in my house. Fortunately, I wasn't alone in this plan and several other peeps wanted to join in and make DIY Terrariums. Thank you to my friends for your participation and enthusiasm–crafting is so much more fun when we are doing it together!
Here is what you need for the job:

Soil: sand, rocks, gravel- you can mix and match according to your plant of choice. I use rocks on the bottom for drainage and then add topsoil.
Plants: Succulents, Air plants, Ferns, Fake plants- fake moss
 or succulents look very realistic.
Container-Vase, glass bowl, light bulb, Mason jar, Starbucks bottle- you can use anything really, so get creative!
To amp up the cute factor, we added tiny animals and Miniature Toy Figures
 to our terrariums. For small figurines check the doll house section at your local craft store, or a 25 cent toy machine at the grocery store. I just thought of it, but a LIL HOMIES
figurine would have been perfect …next time.
Gutting a light bulb is quite a feat, but we managed to achieve it without injury. Here is a great post via Hipster Home on how to make a light bulb terrarium. Also, another helpful resource for instructions is Terrarium Craft: Create 50 Magical, Miniature Worlds
. For more pics of our craft meet up check out Kelsey's recap via Minted Life and Monica's recap via Nona's Market.
My  sister-in-law Tori lives out of town, but wanted to participate from afar. She created this beautiful table lamp terrarium.
P.S. For the occasion I made everyone these terrarium prints-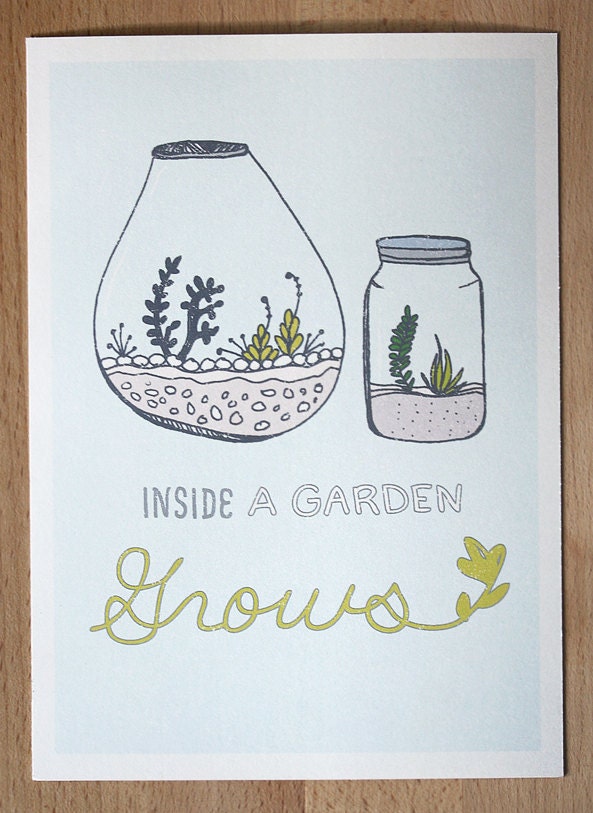 This Sunday I held a craft meet up at my house. We made terrariums of every shape and size. In honor of the event, I made these 5×7  illustrated prints. You can get them here. Stay tuned, a DIY terrarium post is in the works.
Features:
• 5″x7″ sized print
• printed on 210g archival soft white cover stock
• packaged in a cello sleeve
If you'd like a larger size of this print, please contact me and request a custom order.